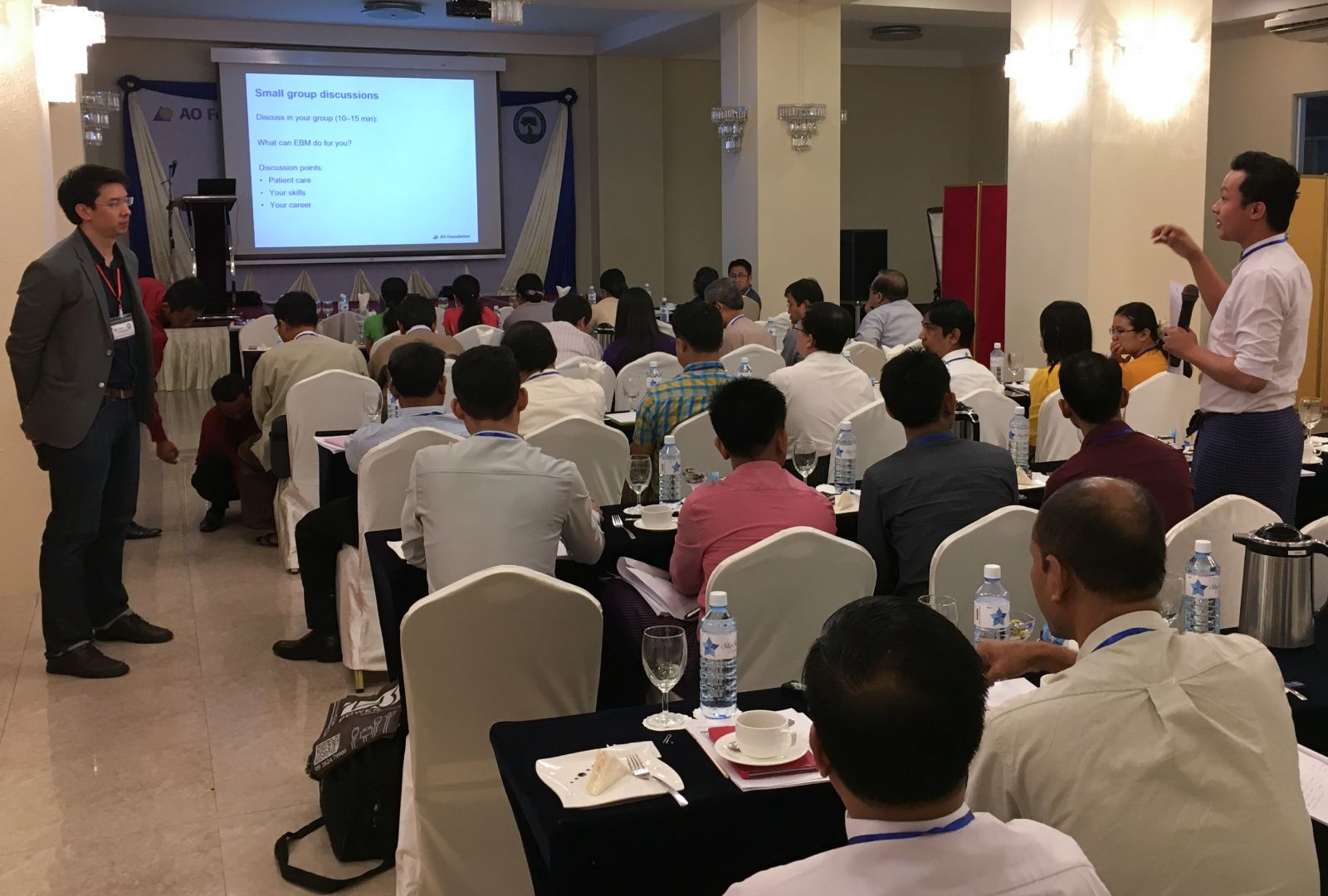 AOPEER Completes First Face-to-Face Course
AOPEER Successfully Completes Its First Face-To-Face Courses in Myanmar and Hong Kong
Early this September, the AO Foundation's Program for Education and Excellence in Research (AOPEER) held its first face-to-face Principles in Clinical Research course. The educational program, which helps surgeons to improve their clinical research skills, was hosted in Myanmar by the AO Alliance, and in Hong Kong by AOSpine Asia Pacific. The course curriculum was developed by the AOPEER Taskforce, in close collaboration with Clinical Investigation and Documentation (AOCID) and the AO Education Institute.
Building a regional network of AOPEER teachers
In addition to the courses, and to establish a network of AOPEER teachers in the Asia Pacific region, a clinical research teacher-training seminar was combined with the Hong Kong course to educate the seven participants from Australia, China, Japan, India, and South Korea. At the Myanmar course, six of the course's 36 participants also attended a teaching seminar. These pilot activities serve to support the development of a worldwide network of AOPEER teachers.
About AOPEER—designed by surgeons, for surgeons
Clinical and translational research takes a lot of hard work and dedication, and many surgeons receive little to no training in this area. This is why AOPEER has been developed: to support surgeons in getting up-to-speed in every aspect of their research. Through AOPEER's online learning and face-to-face events, interested surgeons can learn how to carry out and publish research through a diverse set of learning resources. AOPEER covers the fundamentals of research, from how to design studies and access grant funding, to how to get organized with study management, data management, and statistics. It also explains how to successfully publish the results.
Participants gain confidence in contributing to evidence-based medicine
"The course provided a lot of new information that is useful to one's daily practice and is also very beneficial for improving clinical research education skills in orthopedics. We can only recommend this event to our colleagues, and look forward to similar courses in the future," conveys course participant Maung Mg Htwe, Professor and Head of the Department of Orthopedics at the University of Medicine in Mandalay, Myanmar, and President of the Myanmar Orthopedic Society.
The successful courses and training sessions in Asia Pacific were led by Ivo Schauwecker, Manager of Clinical Services at AOCID. He was supported by five local teachers from Thailand, Japan, and Hong Kong, who completed a teacher-training seminar earlier this year, and were selected from AOCID's network of qualified AO Clinical Study Centers (AOCSC).
Access AOPEER and get your research off the ground
Watch the latest AOPEER video to learn more about how AOPEER can support your research efforts: https://vimeo.com/231831081, or visit the AOPEER website, www.aopeer.org. The subscription is free for members of all AO Clinical Divisions.