05 November 2019
On 12-13, September 2019 AO Alliance organized a seminar on Nonoperative and Operative Fracture Management for general practitioners and first/second-year medical residents in the town of Bhairahwa, Lord Buddha's birth place, in Nepal. The event, which attracted 30 young doctors, is designed to provide fundamental knowledge and guidelines for basic management of common fractures and to enable participants to recognize those fractures that need nonoperative or operative treatment. The plaster application practical exercises were greatly enjoyed by the participants.
Prof Ramesh Prasad Singh, Chairman of the AO Alliance Steering Committee for Asia, along with Prof Bachuchu Ram KC and Prof Dipak Prakash Mahara (two past presidents of the Nepal Orthopaedics Association) served as senior faculty, and were supported by a younger generation of faculty, Dr Vijendra Adhikari, Dr Kishor Shrestha and Dr PR Kandel. Dr Unmesh Chakraborty (India) and Dr OFG Kibria (Bangladesh) served as regional faculty.
Once the seminar concluded, focus shifted to Kathmandu, where AO Alliance held a Faculty Education Training course for operating room personnel (ORP), under the leadership of Susanne Baeuerle (Switzerland). Over 15 ORP from acorss the country gathered in the capital on 17 September, 2019 to learn best practices in teaching and sharing their skills. Lectures, group discussions and practical exercises designed to actively engage the participants were cheerfully carried out, as the participants performed excellently during the practice and feedback sessions. The ORP event was supported by national faculty: Dr Subhas B Shah, Dr Subin Byanjankar, Rabina Prajapati and Punita Maharharjan.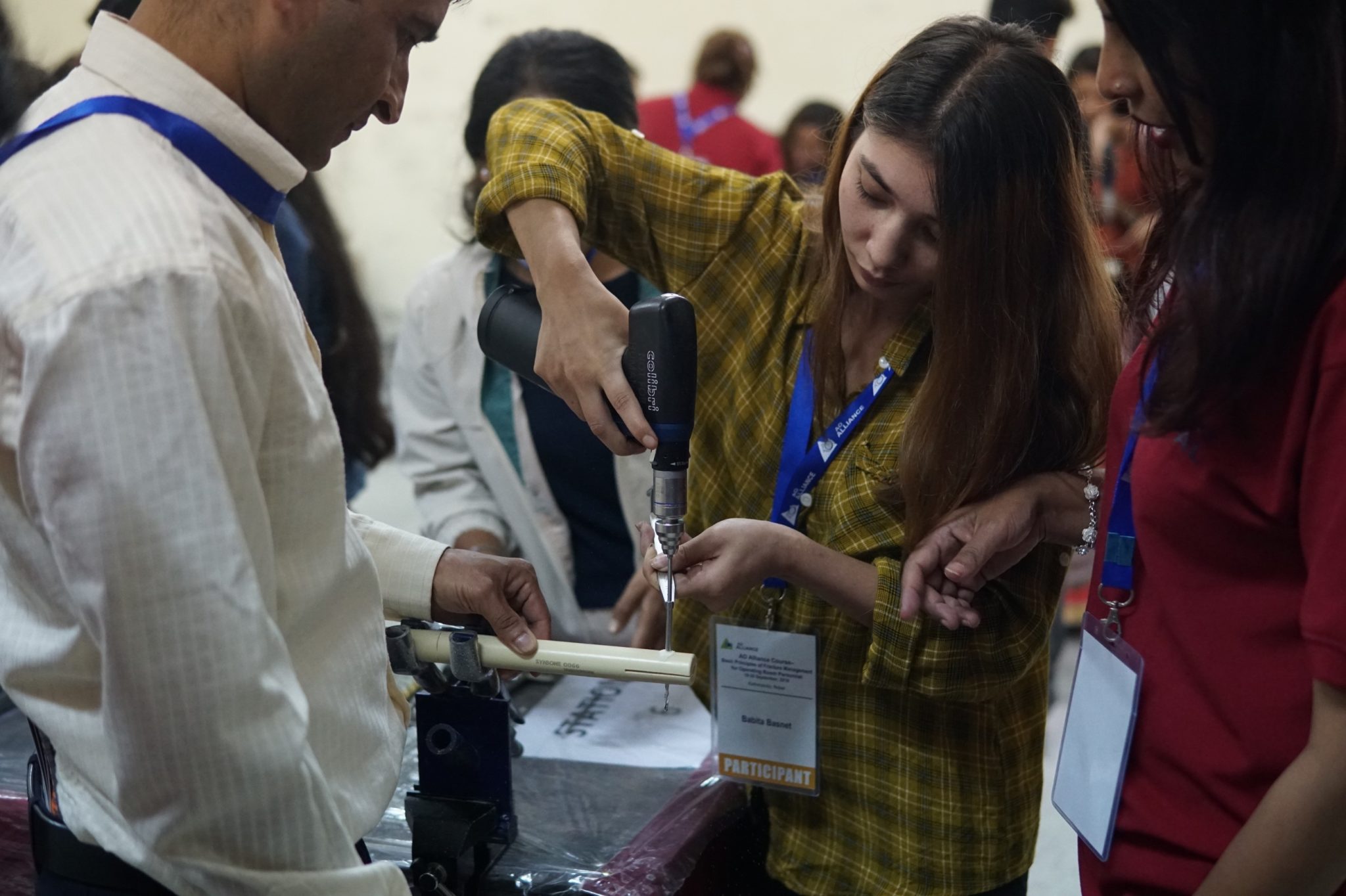 Practical exercise during the ORP course on September 19-20, 2019.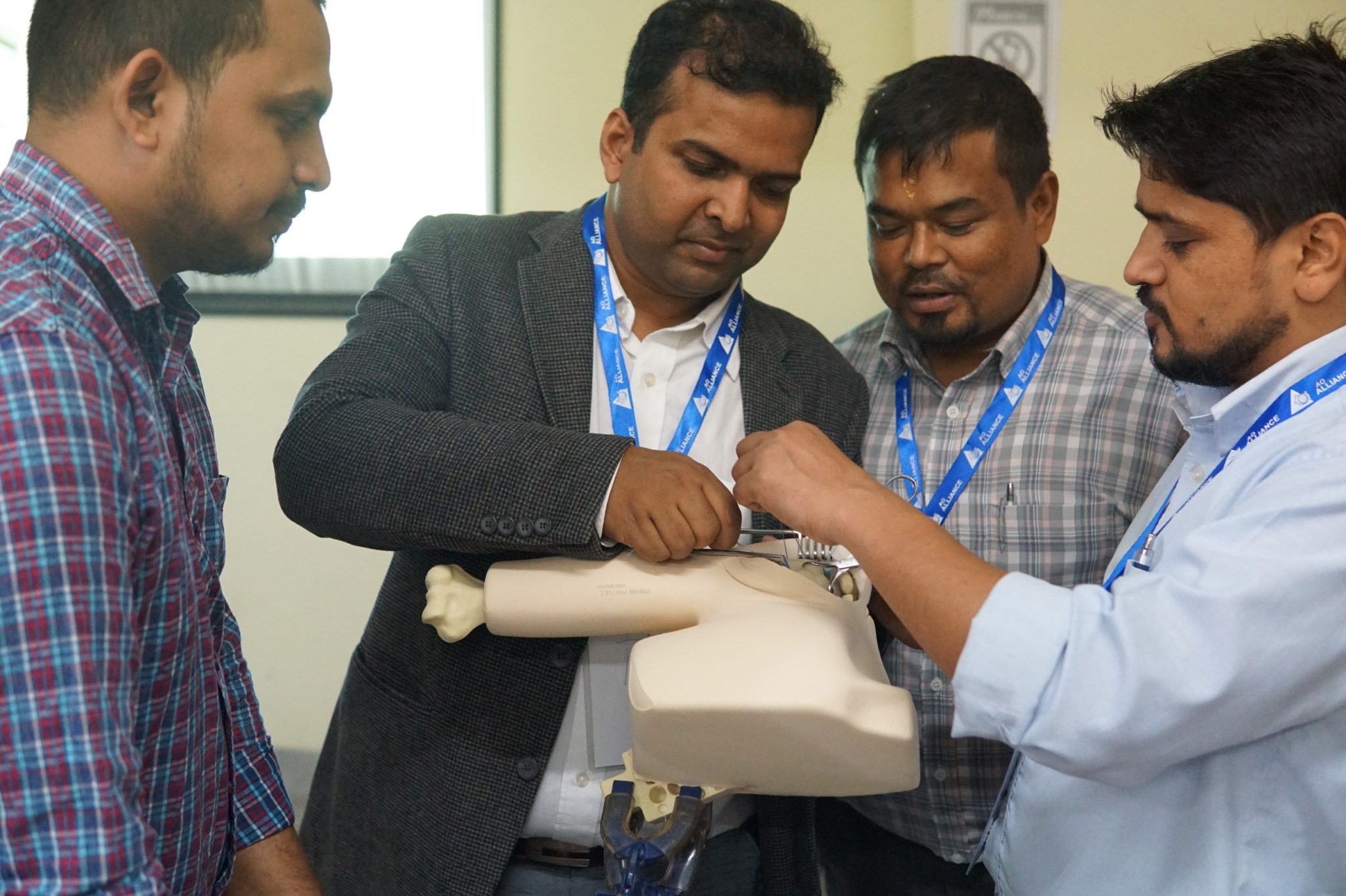 Surgeons practicing their surgical skills during the practical session on September 19-21, 2019.
The Nepal Medical College & Teaching Hospital in Kathmandu hosted two courses, one for surgeons and the other for ORP. The AO Alliance Course: Basic Principles of Fracture Management for Operating Room Personnel on September 19-20, was attended by 30 ORP (out of 90 applicants) and was chaired by Rameshwari Chalise.
In tadem, AO Alliance organized another course (with AOTrauma Approved Curriculum): Advanced Principles of Fracture Management on September 19-21, for 40 young surgeons who were selected out of over 70 applicants. The international faculty was composed of Dr Shushrut Bhabulkar (India), Dr Wanjak Pongsamakthai (Thailand), Dr Yan Guo (China), Dr Le Ngoc Quen (Vietnam), Dr Yasas (Sri Lanka). The national faculty consisted of Dr Ram K Shah, Dr Mahesh Shrivastava, Dr Anil K Mishra, Dr Pashupati Choudhary and Dr Prafulla Shrerstha. Both educational events were supported by Dr Vijendra Adhikari and Sabita Kafle from the Nepal Medical College & Teaching Hospital as faculty and resource person.