AO Alliance makes the case for fracture care education in LICs at AO Foundation Trustees Meeting
On July 12-14, 2018, AO Alliance (AOA) was invited to participate in the AO Foundation's Annual Trustees Meeting in Basel, Switzerland. This year's Trustees Meeting marked the AO Foundation's 60th anniversary and provided the backdrop for AO Alliance's breakout session AO Foundation @60: Expanding our Global Footprint.
The breakout session sought to address key questions regarding the Foundation's support for the Alliance and how it could become the vehicle through which the AO Foundation (AOF) could expand its education activities into low-income countries (LICs), thereby fulfilling its newly revised mission of "promoting excellence in patient care and outcomes in trauma and musculoskeletal disorders." As 90% of musculoskeletal injuries occur in low- and middle-income countries, such a partnership between AOF and AOA would further cement both organizations as leaders in trauma care education. Incoming AOF President, Robert McGuire, affirmed that AOA's mission and strategy are very much in line with his vision relating to fracture care education in LICs.
During his impassioned presentation on strengthening the care of the injured, Dr Etienne Krug (Head of Management of Noncommunicable Diseases, Disability, Violence and Injury Prevention at the World Health Organization), said "I believe the AO Foundation and AO Alliance can be the ones to make a huge difference to save lives in LICs".  A little-known fact, even among the event's attendees, is that injuries cause 32% more deaths worldwide than HIV/AIDS, TB and malaria combined. And, for every death, 25 survivors go on to live with some form of disability.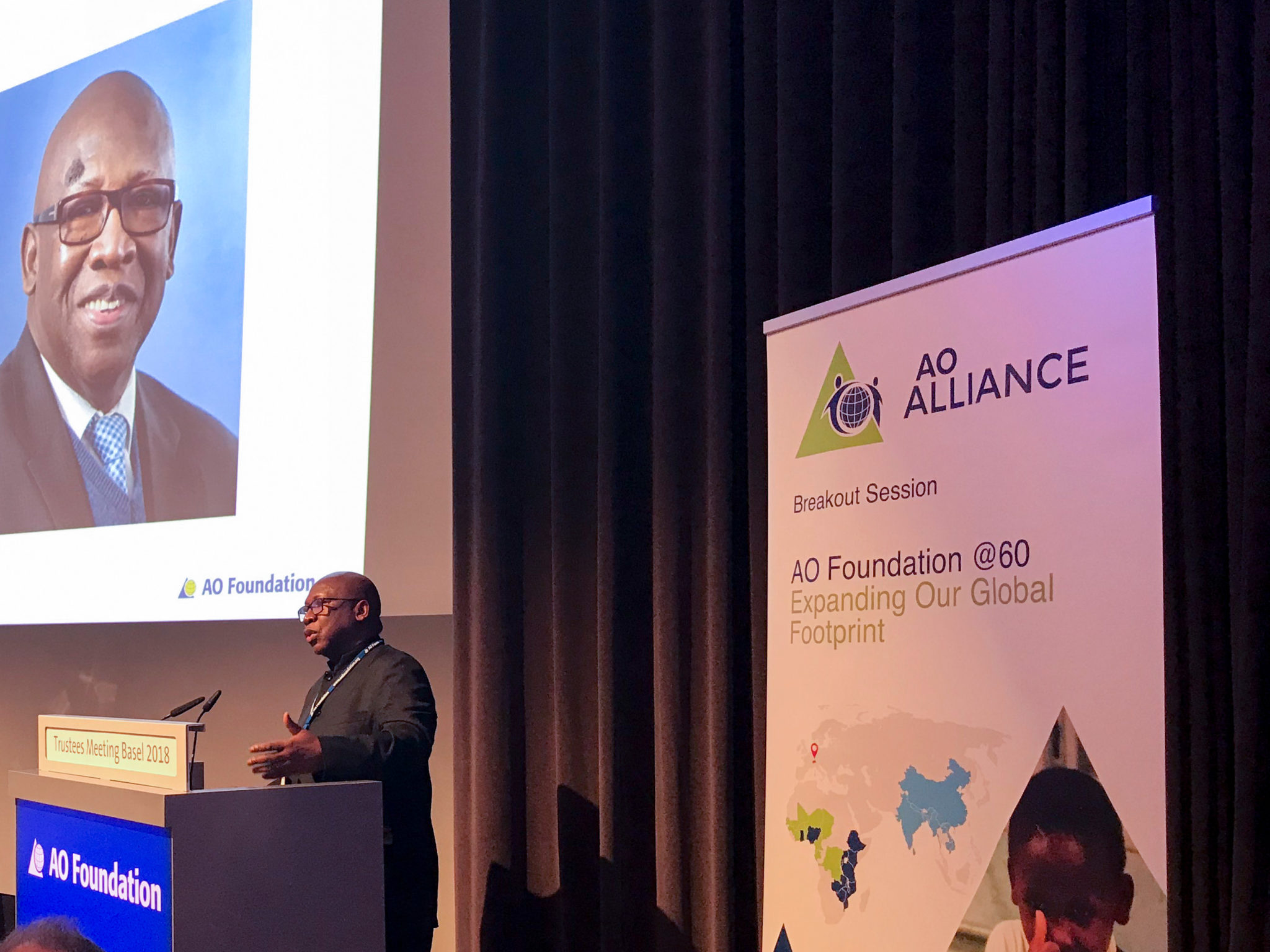 Injuries are a huge problem in Africa. We need to build awareness and build capacity. AO Alliance is training healthcare workers in a number (24) of Sub-Saharan African countries, but we need to scale up and replicate the projects.

Abdoulie Janneh (AO Alliance Board Member, Former UN Under-Secretary General and Executive Secretary of the UN Economic Commission for Africa, Executive Director and Board Member of the Mo Ibrahim Foundation).
Mr. Jean Todt, President of the Fédération Internationale de l'Automobile (FIA), was not able to attend in person but sent a powerful video to the Assembly of Trustees calling for action for this neglected epidemic of road traffic accidents. He was appointed by the UN Secretary-General Ban Ki-moon as his Special Envoy for Road Safety, and was confirmed on April 2017 by the new UN Secretary-General Anté³nio Guterres.