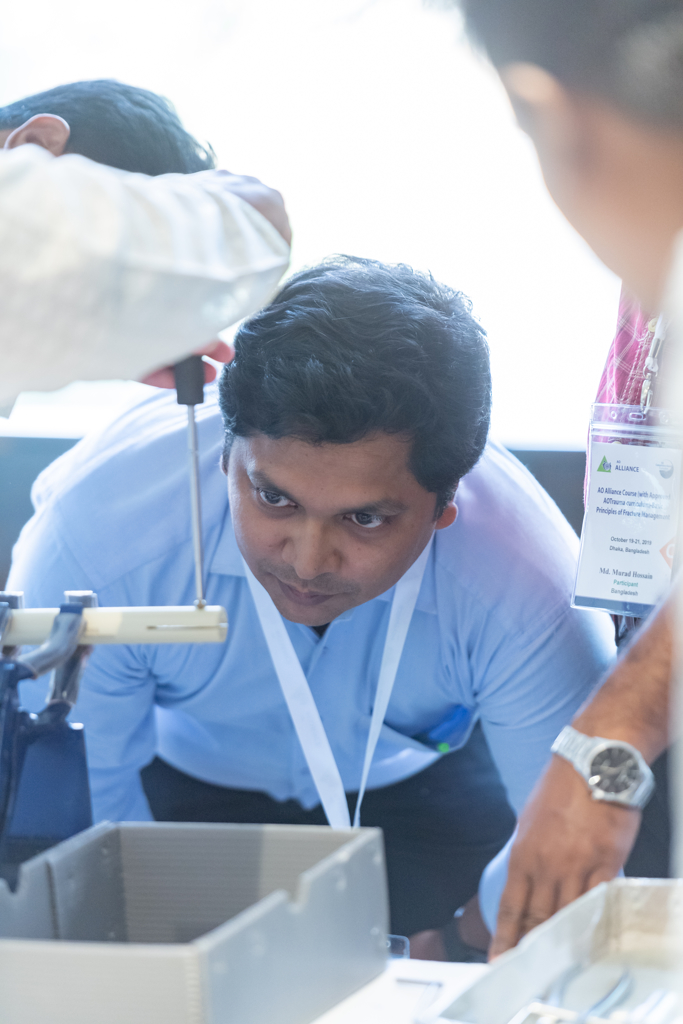 On October 19-21, 2019 in Dhaka, regional and national faculty came together to elevate the level of care of the injured in Bangladesh.This Basic Course is designed to provide the participant with fundamental knowledge of operative treatment of fractures according to the AO Principles.
The four guiding AO Principles of fracture fixation are:
  Functional reduction of the fracture fragments, particularly in   joint fracture;
  Stable fixation to ensure proper healing of the fracture allowing surrounding tissue to move and strengthen;
  Atraumatic surgical technique to preserve the blood supply to the bone fragments and soft tissue;
  Early, pain-free mobilization, returning the patient to function as soon as possible.
The goal of this course is not to advocate for the treatment of all fractures by surgical fixation, but rather to help ensure that when surgery is carried out, it is done properly based upon principles, appropriate preoperative planning and decision making. There is still very much a place for nonoperative management of factures, especially in austere environments.
For the surgeon's course, AO Alliance would like to thank Regional Chair Vivek Trikha (India), National Chair OFG Kibria and National co-Chair Md. Fazlul Haque Qasem. Their task was made easier and complemented by regional faculty members JP Leung (Philippines), Ismail Hadisoebroto Dilogo (Indonesia) and Nguyen Trung Hieu (Vietnam).
AO Alliance extends its gratitude to its National Chair Md. Jahangir Alam, National co-Chair Mohammad Abdul Hanid and regional faculty members Rabina Prajapati (Nepal) and Ms Sriyani Udagangoda (Sri Lanka) for delivering the Basic Principles of Fracture Management for Operating Room Personnel (ORP) course.
Over 45 participants attended the surgeon's course and 30 participated in the ORP course. The major challenge for these courses remains the availability of limited sets of instruments for each procedure in the practical exercises. AO Alliance is working to adopt the AOTrauma Thailand model to alleviate this shortcoming.