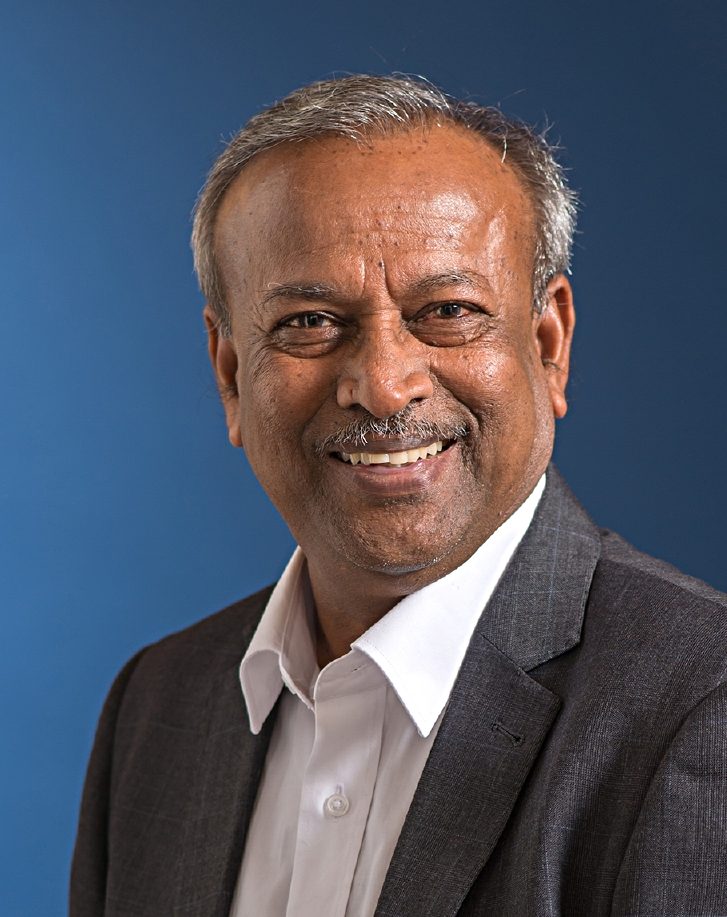 Ram Kewal Shah Obituary 1955-2023
It is with great sadness that we announce the unexpected passing of Prof. Ram Kewal Shah on Thursday, June 8, 2023.Prof. Shah, a native of Nepal, had an illustrious career spanning three decades as a trauma and orthopedic surgeon and developer of improved care for the injured in low-income settings. His commitment to the care of the injured remained unwavering, as he volunteered for the AO Alliance and founded both the Orthopaedic & Trauma Foundation Janakpur (1993) and the Janakpur Orthopaedic Hospital (2016). A prolific researcher, Prof. Shah has published over 30 articles in various medical journals. In 2021, he was appointed Vice Chancellor of the Madhesh Institute of Health Sciences, which has a catchment area of 6 million people. He worked to establish a trauma center to improve access to care for the injured.
From 2008 to 2014, Prof. Shah was a member of the AO Socio-Economic Committee (AO SEC), the predecessor to the AO Alliance, taking on the role of AO SEC representative for Asia. Years later, in early 2014, Prof. Shah was part of the task force that set the objectives, scope, and activities of what would become the AO Alliance. With the creation of the AO Alliance in December 2014, he was appointed as the Asia Regional Director. He was instrumental in both laying the foundations for the new organization and stewarding the activities of the AO Alliance in the region.
"I had the privilege of knowing Ram since the old AO SEC days. He was a fine gentleman, a dedicated surgeon and an inspiring educator," says Prof. Jaime Quintero, one of the founders of the AO Alliance. These sentiments are shared by the entire AO Alliance family. Prof. Shah will be greatly missed.
For more than 20 years, he worked to make fracture care more accessible to patients in low-income countries and to improve the skills of surgeons, residents, paramedics, and nurses on the front lines of fracture care.
Ram K. Shah is survived by his wife, Milan, and their two sons, Dhiraj and Niraj. Our deepest sympathies go out to his family and friends.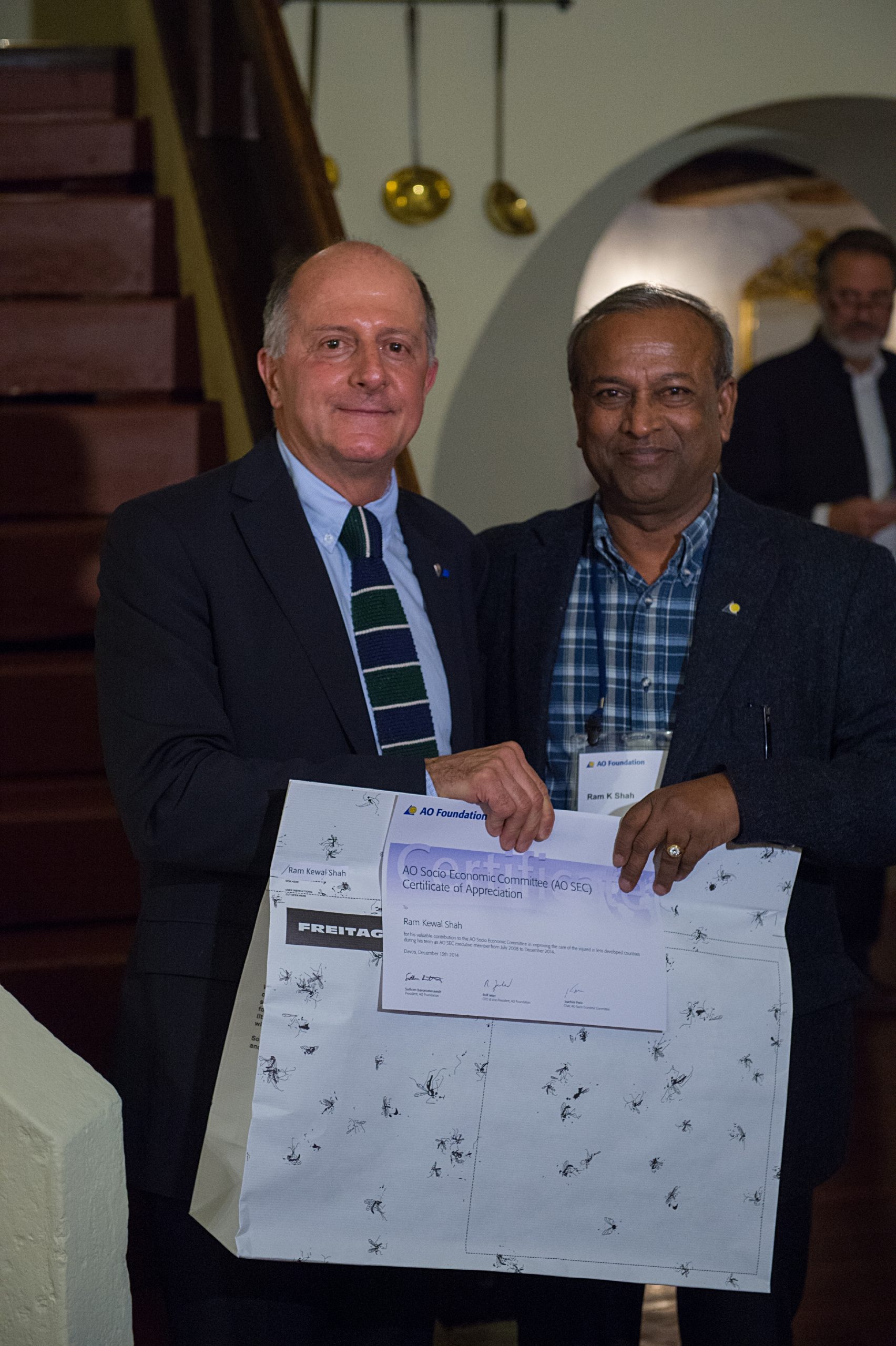 Jaime Quintero presents Ram K. Shah with the AO SEC certificate of appreciation, during the official founding ceremony of the AO Alliance. Davos, December 2014.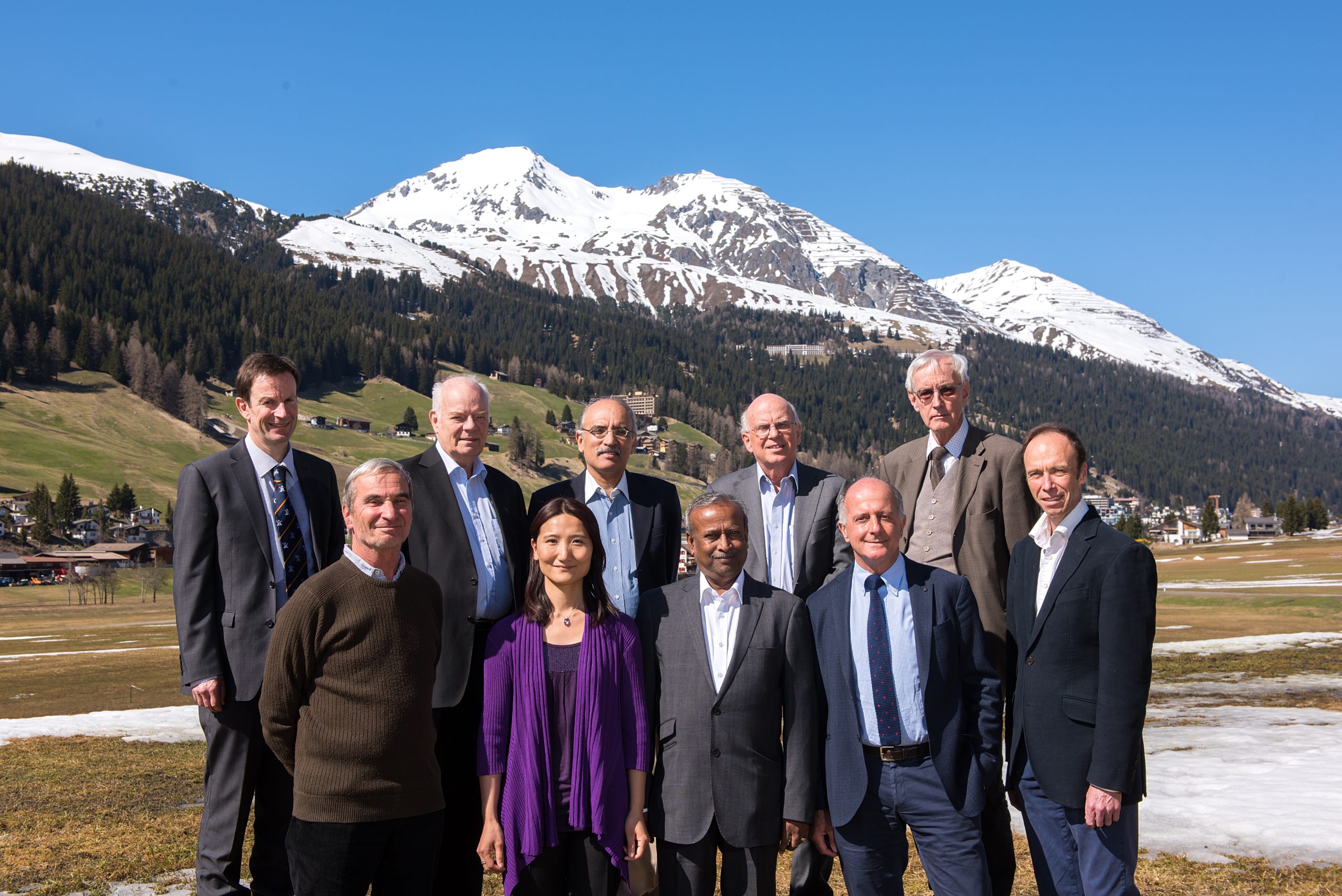 Front row: Sylvain Terver, Polly Buehler (Bühler), Ram Kewal Shah, Jaime Quintero, and Claude Martin Jr. Back row: Jim Harrison, Joachim (Jochen) Prein, Manjul Joshipura, Rolf Jeker, and Jean Daniel Gerber. AO Alliance meeting. Davos, 2015.