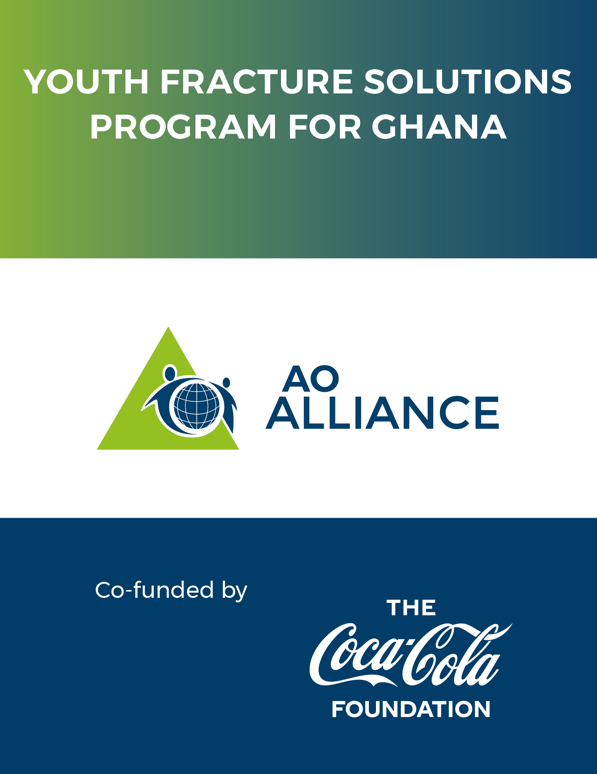 Accra, Ghana, March 14, 2022 "" The AO Alliance, with co-funding from The Coca-Cola Foundation, is launching the Youth Fracture Solutions Program for Ghana to build on and improve capacity in youth fracture care.
The AO Alliance has developed needs-based education that supplements existing formal training and is locally adapted to empower surgeons, trainees, and operating room personnel (ORP) to provide timely and appropriate care with locally available resources to youth.
The program consists of two courses for surgeons, trainees, and other healthcare workers on the frontlines of fracture care, and a course on fracture management principles for operating room personnel. The events comprise not only lectures and small group discussions, but also practical exercises enabling healthcare workers to immediately practice what they learn under the guidance and supervision of local expert faculty (trainers).
Overall, 120 healthcare workers will be trained, to benefit an average of 176,000 patients aged 15 to 34 years. Over the course of the program, ending in September 2022, 450 patients in need of surgical implants will receive financial support, as the cost of such implants can be prohibitive.
Today marks the start of the education and training component of the program, with the first course, Basic Principles of Fracture Management for Operating Room Personnel, taking place at the Miklin Hotel in Accra, Ghana.
Upcoming education events:
Ӣ Nonoperative Fracture Management, April 6-8, 2022, Kumasi
Ӣ Pre-Basic Principles of Fracture Management, July 13-15, 2022, Koforidua
The Youth Fracture Solutions Program for Ghana's long-term impact will be an increase in economic inclusion and community resilience by preventing musculoskeletal (bone and soft tissues) disability among the youth in Ghana "" a demographic that is disproportionately affected by injuries.
Commenting on the initiative, Ms Saadia Madsbjerg, President of TCCF, said, "We are proud to use our resources to fund these initiatives to support the medical infrastructure in Ghana, through which youth of the West African country can have another chance to have a meaningful livelihood".
About the AO Alliance: The AO Alliance is a nonprofit development organization dedicated to strengthening care of the injured in over 30 low- and middle-income countries in Sub-Saharan Africa and in Asia. Our mission is to reduce human suffering, disability, and poverty by implementing programs that enhance local fracture-care capacity for a sustainable impact.
About The Coca-Cola Foundation: Established in 1984, The Coca-Cola Foundation has invested more than $1.2 billion around the world to protect the environment, empower women to thrive and to enhance the overall well-being of people and communities.