November 22-23, 2019. Colombo, Sri Lanka. It was not just about treating injuries and diseases of our complex musculoskeletal system which includes bones, joints, ligaments, tendons, muscles and nerves, but an evening where the core of the healer's vocation was put under the spotlight.
The patient being the focal point for those gathered at the inauguration ceremony of the 11th Annual Academic Sessions of the Sri Lanka Orthopaedic Association (SLOA) on Thursday night, was evident from all the passionate speeches delivered from the podium.
The inauguration of the two-day event on the theme of Improving orthopaedic care through focused teaching and training was held at the Galadari Hotel in Colombo.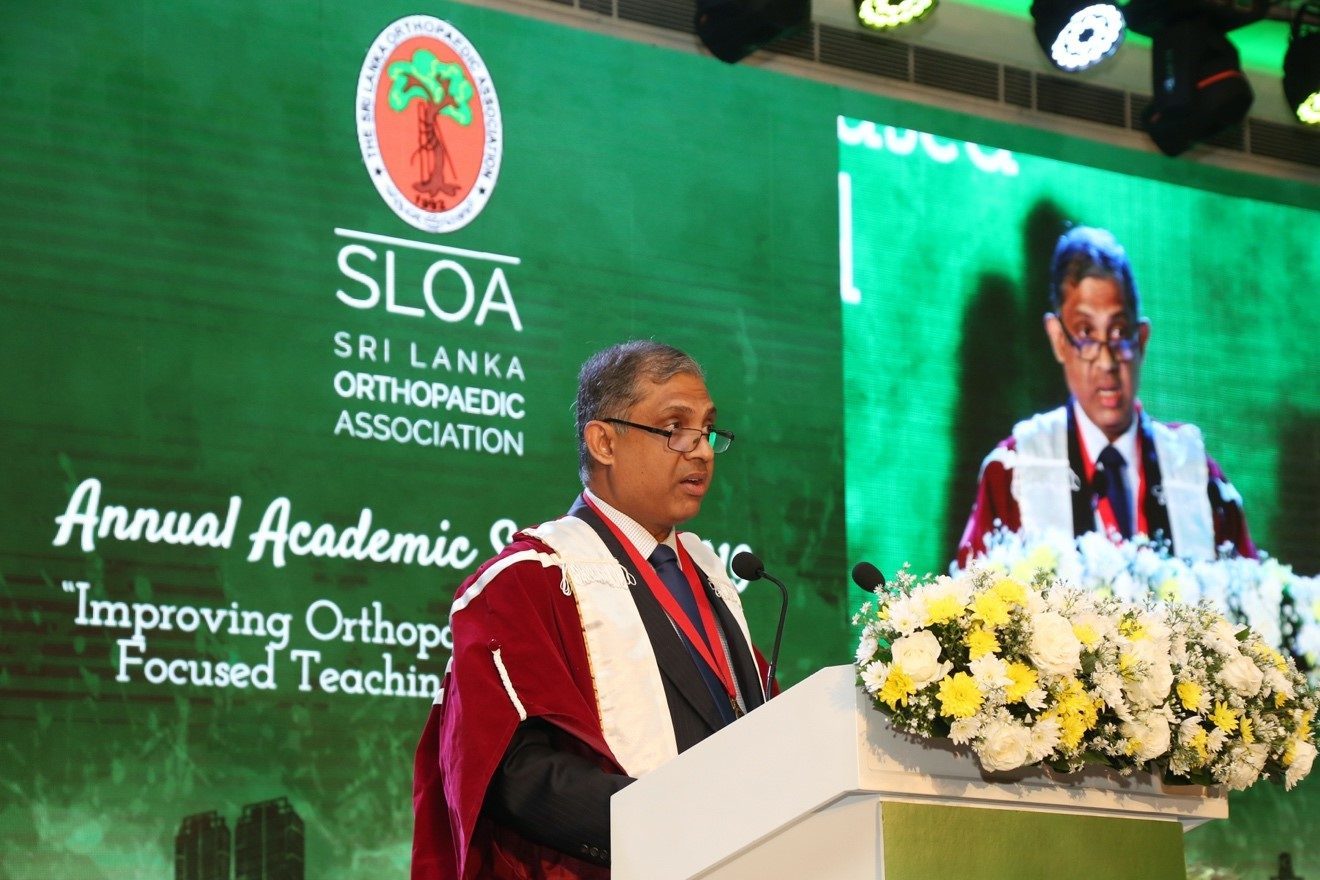 Dr. Sunil Wijayasinghe
SLOA President Dr. Sunil Wijayasinghe made a strong appeal for the strengthening of "correct goals" to ensure patients come first: there should be professionalism at all times along with evidence-based practice and adequate skills, while maintaining ethical standards.
He reiterated that their focus should be on cost-effective treatment suitable for the Sri Lankan setting and maintenance of teaching and training standards, urging that with the growing membership of SLOA there may be challenges such as difficulty in achieving consensus and diverging goals at times. "We need to be careful of personal agendas too," he added.
Tracing improvements in orthopedic care delivery over the years, Dr. Wijayasinghe said that in 1992 there were only 10 orthopedic surgeons serving 17.5 million people, with just one surgeon for 1.75 million people. However, by 2019, 27 years later, there are 83 orthopedic surgeons for 22 million people, with one surgeon per 265,000.
With society undergoing rapid transformations with shifting goals and values, technological progress and increasing access to information, Dr. Wijayasinghe had some pertinent advice for the younger generation: "The patient should come first, and you should never lose your common sense and the humane touch. This is while you practice evidence-based medicine, encouraging the peer-review process and trying to do the correct thing at all times."
AO Alliance Managing Director, Claude Martin jr., was a guest speaker and shared his personal views on skillful neglect treatment of distal radius fractures in the elderly.