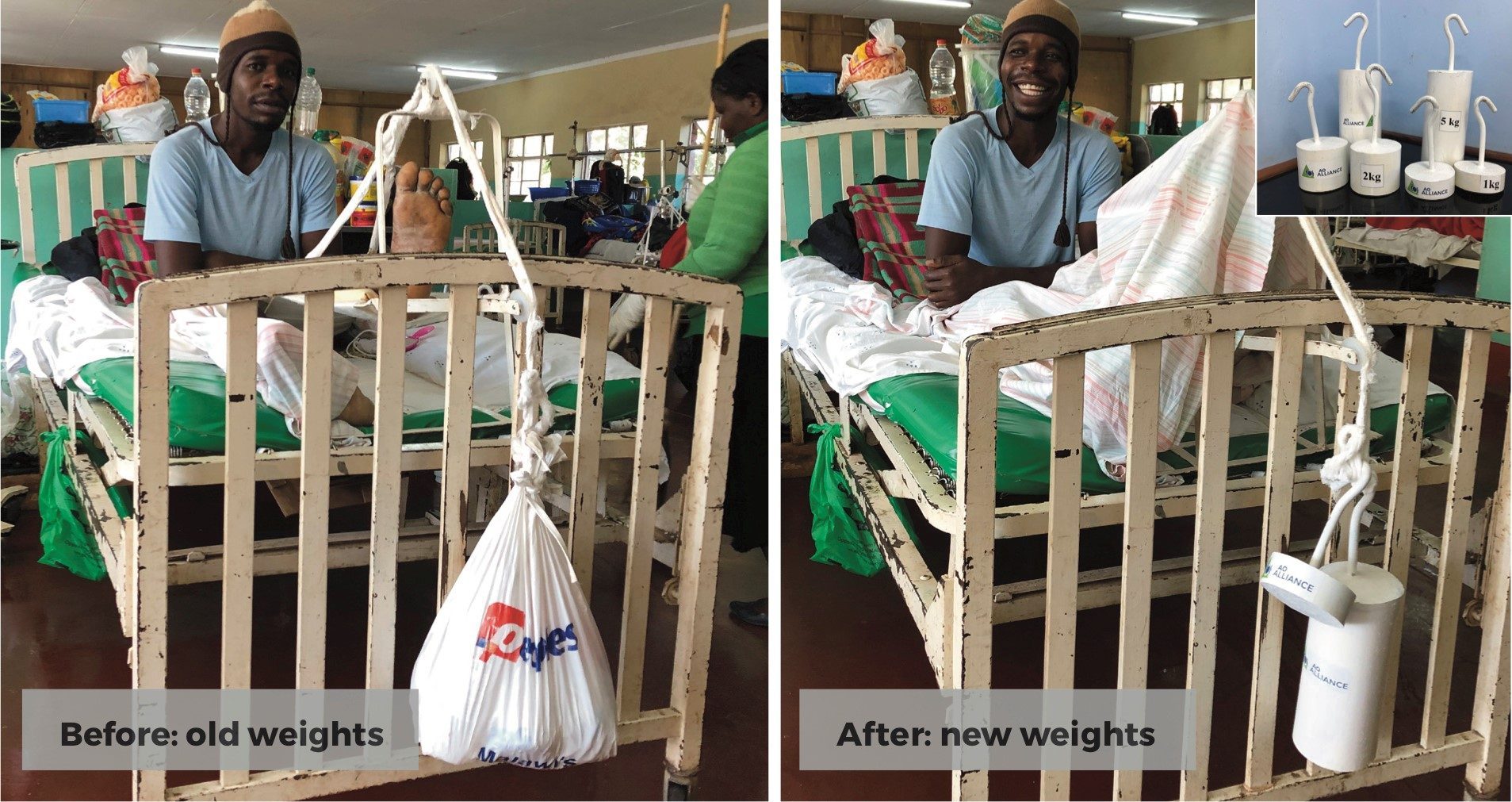 Traction weights for injured patients in Malawi
15 June 2020
The current COVID-19 pandemic may have halted or slowed down a significant number of activities around the world, but it has not suspended the need for essential medical equipment to treat the injured.
In April 2020, Emmanuel* suffered a femoral fracture after a car collided with his motorcycle. He was taken to the Queen Elizabeth Central Hospital (QECH) in Blantyre to be treated. Surgery is the treatment of choice, but patients often have to be placed in a traction device as there is a bottleneck in the operating room.
Traction is a technique for realigning a broken bone or dislocated part of the body using weights, pulleys, and ropes to gradually pull the bone or injured limb back into position. At the QECH, this had become a recurrent issue: precise weights being unavailable, the only solution was to use rocks and makeshift weights, which do not provide for good clinical practice. Like many other patients needing traction, Emmanuel was initially given makeshift weights.
Dr Jes Bates, a trauma and orthopedic surgeon at QECH and Precious C. Kamange, AO Alliance Malawi Project Officer, set out to find a better solution. With the knowhow of Bickson Kapalamula Munelo, local cement makers, welders and painters, they designed and manufactured 70 precise weights.
"There will be improvement in the patient healing process, as cases of nonunion due to the use of non-uniform weights will be reduced", says Dr Chikumbutso Mpanga, trauma and orthopedic surgeon at QECH.
Emmanuel will soon be able to go back to supporting his wife and child, and resume his work duties without worrying about his leg needing corrective surgery further down the line.
*For privacy reasons, the patient's name has been changed.